Typical Tests performed with the MTE range of Universal Testing Machines
Tensile
Compression
Bend (3 & 4 point)
Shear
Supplied with the powerful METROTEST ".software and touch screen PC.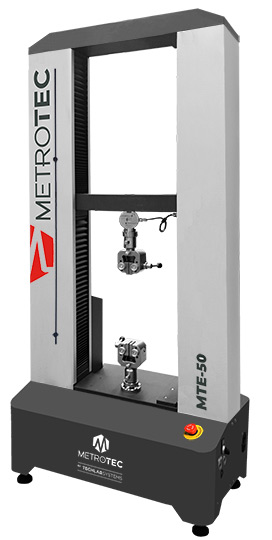 Features
 Accuracy: +/- 0,5 % (EN ISO 7500:2004 Class 0.5 ASTM E4)
 1 Loadcell for Tension / Compression testing
 METROTEST Materials Testing Software – Multilingual (English, French, German and Spanish)
Statistic software pack : Barr graphs, Gauss bell diagram and Comparative of References
All-in-One" Touch Screen 22" PC
ISO 17025 ENAC Calibration Certificate of 1 Load Cell (equivalent to UKAS)
Manufacture in Spain by Metrotec / TLS
Follow links for more details on the models in the MTE range of materials testing machines.
MTE 10/25/50 10 MTE_10-50_Universal_Testing_Machines-1-CAT-I-R9
MTE 100/200/300 MTE_100-300_Universal_Testing_Machines-1-CAT-I-R9
MTE 400/500/600/750  MTE_400-750_Universal_Testing_Machines-1-CAT-I-R9
Contact us today and our experienced sales engineers will help you choose the correct machine for your testing. 
Is this not the tensile tester you were looking for? We have a huge range of tensile testers available today.
AML fully supports the Metrotec range of tensile and materials testing machines, we provide calibration and service for this brand and most other leading makes of test equipment.