Enquire about this service
Instrument Repair / Test Equipment Repair
Measuring Instruments and Test Equipment Repair Service.
AML offers a repair service for test equipment and measuring instruments for most types and manufacturers of both electronic and mechanical instrumentation / test equipment, down to a component level.
Having your instruments and test equipment repaired or refurbished will lead to an extended lifespan of your existing instrumentation.
Our engineers are specialists in repairing old and obsolete test equipment, as well as the most up to date instrumentation and also have facilities to reverse manufacture new parts. We are able to offer a fast turnaround with this service as we hold a large number of components and spares in stock.
All instruments that are repaired by AML will be returned to you with a new calibration certificate.
AML are official agents for Techlab Systems (TLS)  RollTest, Technidyne, Kershaw Instrumentation and Oakland Instrument in the UK, so we not only service and calibrate their range of instruments and equipment but can also provide a full repair service should the need arise.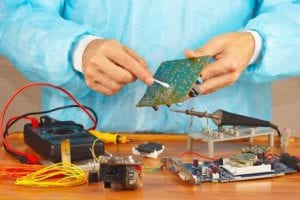 We keep a large number of spares for the Technidyne and RollTest ranges in stock which enables us to provide a swift response to your problems. We also supply the full range of user replaceable spares, consumables and calibration standards.
AML offer this repair service throughout the UK and Europe, being based in the East Midlands between Lincoln and Gainsborough, means we can offer competitive call out rates. Or you can send your test equipment to us, which is the most cost effective way of using our repair service.
Recent Test Equipment and Instrument Repairs Include:
Deadweight Micrometers (Hanatek, Messmer, TMI, Thwing Albert L&W Technidyne)
Thickness Gauges (Hanatek, Messmer, TMI, Thwing Albert, L&W Technidyne)
Tensile Tester, Lloyds, (Instron, Mecmesin, Testometric, Houndsfield, Tinus Olsen, MTS, Technidyne)
Gurley Densometer (Genuine Gurley, L&W, Messmer, Technidyne)
Balances and Scales (all manufactures e.g. Ohaus, Avery, Satorious AND, Kern etc.)
Bendtsen Smoothness and Porosity tester manual and electronic. (Messmer and Anderson & Soronson, Technidyne).
Timers (Various)
Mitutoyo Micrometers
Autoclaves (Various)
Opacimeters ( Rhopoint, Sheen, Diffusion Systems Technidyne)
Glossmeters (Rhopoint, Sheen, Technidyne)
Dataloggers (Various)
Friction Testers (Hanatek & Davenport, Thwing Albert)
Burst Testers (Messmer & L&W, Technidyne)
Brookfield Viscometer
Box Compression Testers (Testometric,  Techlab Systems (TLS), L.A.B , etc)
Ovens and Furnaces (Gallenkamp, Carbolite. Genlab etc)
Rub Testers (Wallace & Hanatek)
Melt Flow Indexer (MFI) (Hanatek & Tinus Olsen)
Crease & Board Stiffness Testers (Hanatek CBT1 & CBT2, Pira, L&W Messmer)
Bekk Smoothness Tester (Messmer)
PPS Parker Print Surf Roughness and Smoothness (Technidyne, Messmer)
Pressure Gauges (Druck)
Spectrophotometers (Technidyne)
Colorimeters (Technidyne)
Brightness Meters (Technidyne)
Enquire about this service