Servo Hydraulic Universal Testing Machines BMT-S SERIES Features
High quantity and specification Servo Hydraulic Universal Testing Machines at a competitive price backed up with industry leading customer support from a dedicated team of engineers. AML's engineers are UK based with support available 24-7 ensuring you get the most out of your investment. Besmak are a well respected Turkish manufacturer of materials testing machines that have been building machines for over 20 years.
Single workspace with bi-directional travel making this a flexible machine for both tensile and compressive tests
The grips and jaws can securely grip a wide range of sizes and shapes of tensile specimens, including materials with higher elongations.
High accuracy load cell exceeds the requirements of  EN ISO 7500-1 Class 0.5 ASTM E4 with resolution of ± 180,000.
Option to supply additional load cells for lower force tests to be performed on the same test frame.
The BMT-S Series is supplied as standard with hydraulic wedge grips and jaws to accommodate a wide range of flat and round specimens. With options to supply additional grips and fixtures for other tests, making this a truly universal machine.
High accuracy cross head positioning with SSI sensor fitted within the piston with a 1µm resolution
Options for clip on or video extensometers for high accuracy stain measurements
Powerful software included for the calculation of  the required results – all standard calculus are included with the option for the user to programme non standard or modified calculus.
Full installation and training from AML's engineers as standard.
Optional environmental chambers for materials testing at reduced or elevated temperatures and or humidity's.
Please see the data sheet for more detailed information on the features of the test frame, controllers and software. 
Contact us today and our friendly sales engineers will help you specify the correct machine for your testing needs.
The table below shows the standard sizes of test frame from the BMT series. Full customisation of standard test frames  possible with the option to design and build of bespoke test machines.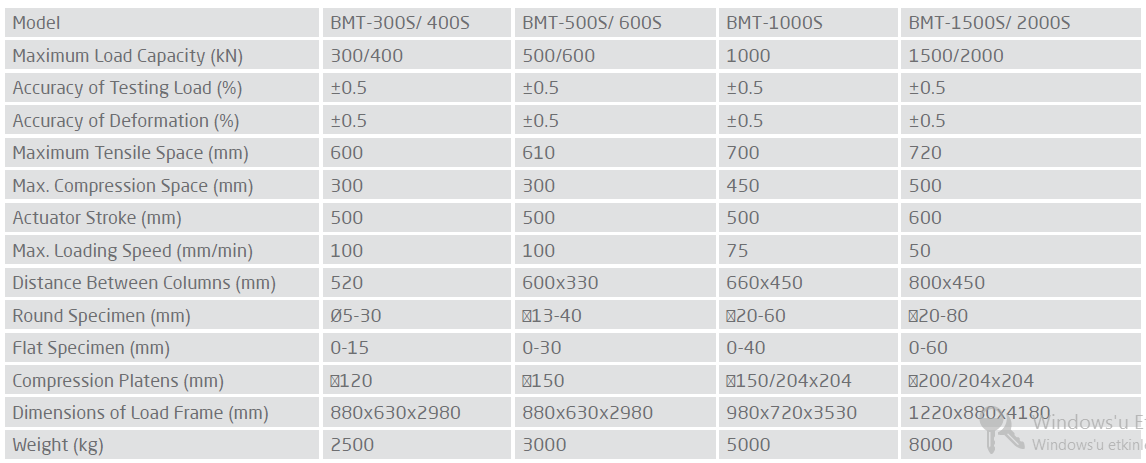 Servo Hydraulic Universal Testing Machines exceeds the requirements of many national and international standards, including but not limited to. 
ASTM A370, ASTM A615, ASTM C39, ASTM C109, ASTM E4, ASTM E8, ASTM E9, ASTM E290, ASTM F606
ISO 6892-1, ISO 6892-2, ISO 7438, ISO 7500-1, ISO 9513, ISO 15630-1
BS 4449
EN10002-1, EN 10002-2
JIS Z2241, JIS Z2248