As well as displaying the dynamic and static friction values for the material, the instrument also allows for the frictional profiles to be stored and referenced against new tests. This industry leading feature greatly assists in relating the feed and running speeds to a products surface coefficient of friction.
Optional extras are available to measure peel strength, blocking of films / coated cartons and tear strength.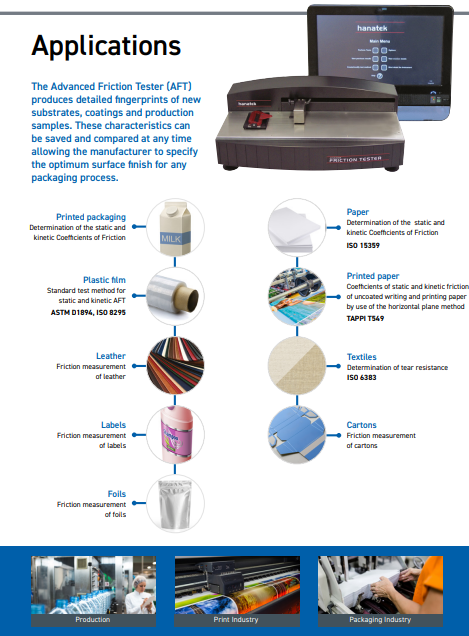 Friction Measurement
The Hanatek Advanced Coefficient of Friction Tester (AFT) measures static and dynamic coefficients of friction
Static Friction:
is the initial force required to make two surfaces move interdependently of each other.
Dynamic Friction:
The force required to maintain the movement between two pieces of material
How is friction measured?
A sample typically 63.5mm² with a known mass typically 200 grams, acting over the test sample is run across another sample at a pre determined speed.
Normally this is a face to face test, however a test against another material such as aluminium is sometimes done.
The test parameters are specified in ASTM D2534,  ASTM D1894, ISO 8295, ISO 15359, and TAPPI T549.
Hanatek Advanced Coefficient of Friction Tester (AFT)
Automated sled lowering with adjustable dwell time which gives much more accurate & repeatable static slip results
Fixed link between the sled and the load cell, intimating the errors in friction from pulley wheels or cords associated with many other friction measuring instruments
Statistical & graphical analysis of test results which can be printed or saved as PDF for easy reporting
Create & store electronic references for future comparison
Easy loading sled for measuring films or the standard sled for thicker materials such as carton board
Pre-loaded with ASTM / ISO / TAPPI slip test methods
Touch Screen User Interface
The Hanatek Advanced Coefficient of Friction Tester (AFT) uses an intuitive touchscreen making it easily accessible.
Research and Development tool or Quality Assurance instrument
This flexible instrument can be configured for quality or research use.
Other tests possible with the Advanced Friction Tester
Box Closing Force
Measure the forces required to close filled cartons.
This test ensures that carton based packages can be stacked and displayed correctly. Cartons must also be properly closed to ensure that any secondary process such as film wrapping can be performed.
Block Testing – Flims, Labels & Cartons
During storage, films, labels or cartons can inadvertently block together making them difficult to separate and feed into finishing or packing lines.
Measure the force required to separate blocked samples
Full testing and sample conditioning instructions
Test to international standards
Peel Testing
Optional attachments transform the AFT into a precision peel test instrument, accurately measuring the force required to separate glued or laminated films, tapes, labels etc.
All tests are to FINAT international standards
T-Peel, 180º peel or 90º peel tests
Graphical on-screen instructions
Force curves and statistical analysis
Tear Testing – Substrate Strength
Optional tear strength attachment allows the user to measure and control tear strength to international standards.
Trouser Tear method
Full graphical instructions and sample templates
Paper & Board Friction Test Attachment
Additional attachment to remove uncertainty in measurement of paper and board.
Utilises the unique Hanatek sled lowering system to remove placement errors
Guidance system ensures that the sled is kept parallel with the measuring plate
Sample preparation system eliminates errors caused by sample contamination
Detachable Heated Bed
Detachable heated bed can be added to test frictional characteristics at elevated temperatures up to 110º C.
Want to know more about friction and slip testing see our guide Friction / Slip Testing Why & How To Measure Coefficient of Friction
Standards:
ISO 8295 Plastics – Film and sheeting – Determination of the coefficients of friction
ISO 15359 Paper and board – Determination of the static and kinetic coefficients of friction – horizontal plane method
ASTM D1894 Standard Test Method for Static and Kinetic Coefficients of Friction of Plastic Film and Sheeting
TAPPI 549 Coefficients of static and kinetic friction of uncoated writing and printing paper by use of the horizontal plane method
ASTM D2534 Standard Test Method for coefficient of kinetic friction for wax coatings
ASTM D3330 Standard Test Method for peel adhesion of pressure sensitive tape
FTM1FINAT Test Method no. 1, Peel adhesion (180°) at 300mm per minute
FTM2FINAT Test Method no. 2, Peel adhesion (90°) at 300mm per minute
FTM3FINAT Test Method no. 3, Low speed release force
FTM21FINAT Test Method no. 21, Ink Adhesion – basic
ISO 6383 Determination of tear resistance — Part 1: Trouser tear method