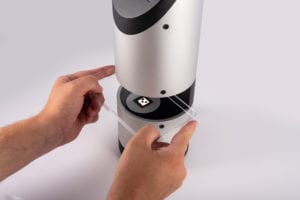 Contact appearance – A direct measurement of the appearance of an object viewed through an in contact material.
Non-contact appearance – A measurement of the appearance of an object viewed through a material with an air gap or spacing between the two.
The relationship between contact and non-contact appearance cannot be assessed by current haze and clarity instrumentation. Haze and clarity values measured with other instruments are impossible to directly relate to the visibility of an object viewed through the material in contact or at any specific distance.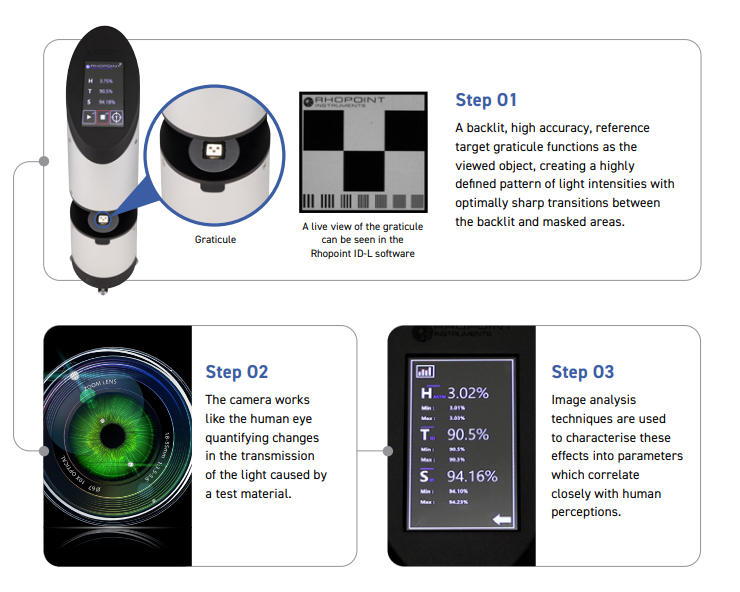 As plastic packaging is used both in contact and with air gaps between the product and protective film, the new ID measurement is a significant step forward for this industry sector when developing or specifying films for different applications.
The following examples show the relationship between air gap size and appearance for a number of different polymer films.
ID values are measured on the Rhopoint ID using spacers to replicate the air gap between the product and material in the final application.
Using this method the ID provides a single scale to evaluate appearance at any distance from in- contact and with up to 40mm air gap.
The ID-L variant additionally provides statistical analysis of results as well as images of the test graticule that can be visually assessed and used in reports outlining material characteristics.
By using the Rhopoint ID, the packaging technologist can choose and specify a protective film that performs best for their application in a way that correlates precisely to the eye of the consumer.