The Calibration and Instrumentation company is family owned by brothers Alex Leeson (Managing Director) and David Leeson BEng Hons MSc (Technical Director).
Alex, who previously was the head engineer for Hanatek for 5 years, joined forces with his brother David to purchase Hanatek's calibration business in March 2012.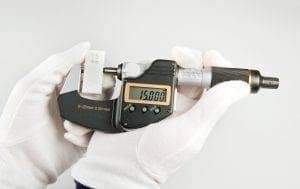 The founder of Hanatek, Ron Hannah, has now retired after many years of dedicated service and hard work but will still be involved in the development of new instruments.
Alex and David bring over 40 years of calibration and metrology experience to the company and together they continue to provide a quality calibration service.
Alex has been involved in metrology and calibration for 22 years. First working for an aerospace company in inspection and calibration, then went on to specialise in providing calibration services for the paper, packaging and plastics industries at Hanatek.
David obtained his Master's Degree in manufacturing engineering, having studied at Loughborough and Cranfield. Since leaving university, David has been heavily involved in metrology, working for a leading Formula One engineering company and more recently for a large dental company in the USA.
Together the brothers train their calibration and repair team to a highly skilled and qualified level. By understanding each other's strengths and interests they are able to use their skill sets to benefit their customers.
AML are proud to employ highly skilled engineers and staff, enabling us to offer our customers an efficient, friendly and professional service at all times.
Since the Hanatek acquisition in 2012, the business has grown into a significant instrumentation and calibration company supplying equipment and services to an every growing number of U.K. and Worldwide customers.
Hanatek & Rhopoint Instruments

AML continue to have a great relationship with Hanatek Instruments, now owned by Rhopoint Instruments, and we are their preferred onsite service and calibration agent for the UK and Europe. AML also supply the extensive Hanatek and Rhopoint range of test equipment.
Kershaw Instrumentation
The Kershaw Instrumentation European agency was transferred to AML from Hanatek Services and we fully support their entire range. For sales, service, calibration or assistance please contact us.
May 2014 UK Weighing Federation
AML become approved members of the UK Weighing Federation, showing commitment to high technical and customer service standards.
August 2014 Carisbrooke Instrument Services, Technidyne and RollTest

AML Instruments acquired Carisbrooke Instrument Services and are now the only official representative for Technidyne and RollTest in the U.K. This shows Alex and David's commitment to providing an even greater range of services and products to their expanding customer base.
Technidyne are famous for their test equipment for the paper industry, especially for measuring surface optical properties such as colour, brightness, opacity and gloss.
RollTest specialise in measuring instruments and equipment for refurbishment and manufacture of the rollers used in the paper and also steel industries.
November 2014 AcquiData Lab Automation Software
AML Instruments has become the U.K. official agent for AcquiData Inc. Meaning AML not only supply leading instruments, we also now supply the latest software to automate your laboratory and testing routines.
January 2015 Oakland Instruments
AML Instruments are now the U.K. exclusive agent for the Oakland Instruments Corporation. This new agreement enables AML to provide an even greater range of high quality measuring instruments and test equipment especially for the plastic, film and paper markets.
September 2015 Techlab Systems (TLS)
AML are now the exclusive U.K. agent for Techlab Systems. TLS manufacture a wide range of test equipment and instruments for the paper, packaging and corrugated industries. AML will be fully supporting the TLS range for sales, service and calibration.
March 2017
New premises to accommodate our continued growth in Scunthorpe North Lincolnshire U.K.
April 2017
AML becomes Hanatek Instruments factory approved onsite calibration and service partner
September 2017
AML becomes Doser Messtechnik U.K. Agent. Doser manufacture a range of moisture meters for a variety of industries.
September 2017
AML becomes a Dycometal agent. Dycometal manufacture a range of environmental and climatic chambers 
March 2018
AML becomes an offical REA barcode verifier distributor
April 2018
Additional office space acquired to facilitate our continued growth
September 2018
January 2019